Rule Book
Rules and Gameplay
General Rules:
3 inning game
3 outs per inning
There is no minimum/maximum number of players per team
Outs:
Player can catch the ball
The ball lands on "OUT"
The ball lands on "STRIKE" three times when hit
Two outs are assessed when the ball lands on "DOUBLE PLAY"
Stopping the ball before it passes the pitcher and before it stops moving
Hits:
If the ball lands and stops rolling without being caught or thrown to a base, the face-up side of the ball determines the outcome of the at-bat
Walks are only determined by landing on "BALL" four times or by landing on "WALK"
Ghost runners or imaginary players can be used if you do not have enough players to fill the bases. Should the ghost runner go around all bases, one run will be assessed to the team at-bat
Sides of the Ball:
STRIKE
OUT
DOUBLE PLAY
BALL
WALK
SINGLE
DOUBLE
HOME RUN
GRANDSLAM
BENJI BALL
Landing on the Benji Ball Side:
At the beginning of each game, the two teams will decide what happens if the ball lands on one of the two sides labeled "BENJI BALL." This side is a wildcard side. 
Examples of outcomes you could do: 
+1 Run
-1 Run
Extra man on base
End of Inning
1 Out
Ideas submitted by customers:
Grady N.

"If it lands on Benji Ball, me and my brother would roll the ball again and whatever that landed on would be the outcome. If it lands on Benji Ball after rolling it, that would be called a Double Benji Ball which we made an automatic end of inning."
Where to play:
Backyard on grass
At the beach
Your local park
Gymnasium
*not recommended to play on pavement or gravel as it may cause damage to the bat and ball*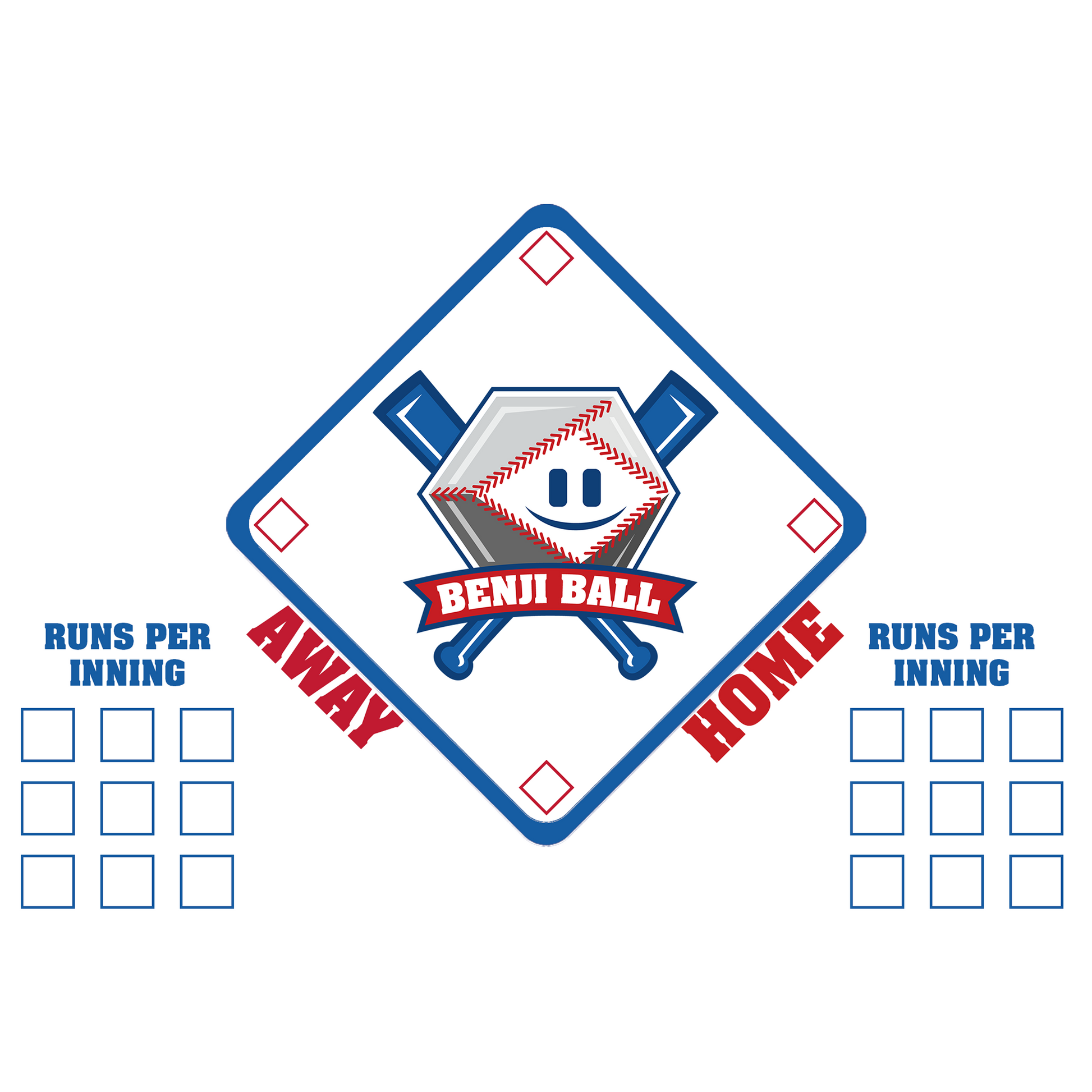 FREE Benji Ball Scorecard
Regular price
$0.00 USD
Sale price
$0.00 USD
Unit price
per
Sale
COMING SOON
Share
View full details